SPONSORS NEEDED FOR 2018 CRIME STOPPERS GOLF OUTING
August 27, 2018
Monday, August 27, 2018 is the 2018 Crime Stoppers golf outing fundraiser at Pinnacle Golf Course, 11928 Knoxville Rd, Moline. Crime Stoppers is seeking community sponsors. Please call Jon at 309-524-2131 for more information.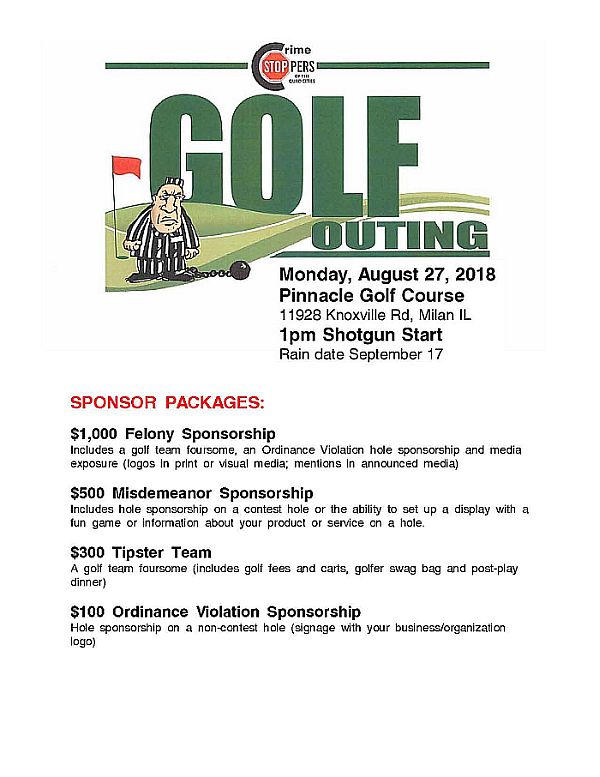 ---
POLICE HOPE BILLBOARDS WILL HELP CLOSE TRUDY APPLEBY CASE
July 17, 2018
Today, the Moline Police Department in cooperation with Crime Stoppers of the Quad Cities and Lamar Advertising erected, "Two Billboards for Trudy."
The two billboards will be placed at 19th Street/5th Avenue and Highway 5 near Barstow Road both in East Moline.
On August 21st, 1996, then 11 year-old Trudy Appleby went missing from her home in Moline and she has not been seen since.
Over the course of the last, now almost 22 years, thousands of tips have poured in and interviews conducted.
On August 21st, 2017, the Moline Police Department named William Edward Smith, now deceased, as a person of interest.
The Moline Police Department believes that one or more persons participated in the crime and the subsequent cover-up regarding the disappearance of Trudy Appleby.
Relevant and pertinent information regarding Trudy Appleby continues to come in, but we are missing the last few pieces of the puzzle and believe someone with the last bit of information will drive past the billboards, come forward and complete this puzzle.
The Moline Police Department knows there are several people with critical information regarding Trudy Appleby but they continue to hide behind a shroud of secrecy. We are asking the public's assistance in removing their shroud of secrecy and bring Trudy home.
Anyone with information regarding Trudy Appleby is asked to call Crime Stoppers of the Quad Cities at 309-762-9500 or the Moline Police Department Criminal Investigations Division at 309-524-2140.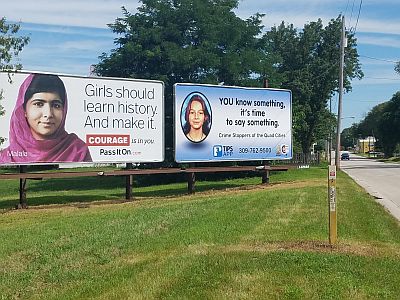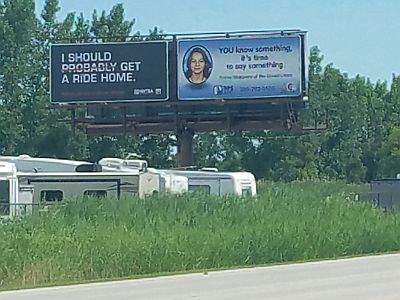 ---
CRIME UPDATE 07/06/2018
July 06, 2018
Listen here for this week's crime report on AM Quad Cities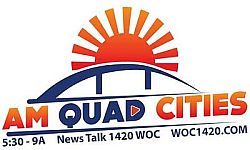 ---
BIG NEWS! CRIME STOPPERS INCREASES IT'S MAXIMUM REWARD!
June 14, 2018
Since the inception of Crime Stoppers of the Quad Cities in 1982, Crime Stoppers has been paying out rewards up to $1,000 on tips that lead to a felony arrest. Today, the Board of Directors announce that the maximum reward payment has been raised to $2,500. This change will hopefully prompt more people to come forward with information that will solve previously unsolved murders, and other unsolved heinous crimes in the Quad Cities, making our community even safer.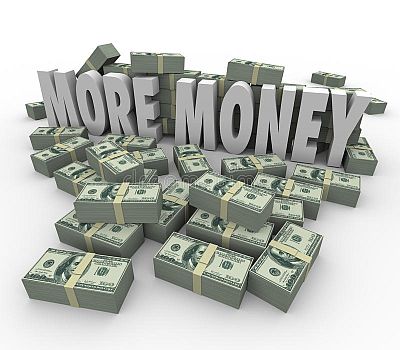 ---
UNCLAIMED REWARDS
March 15, 2018
Crime Stoppers has had an uptick in solved crimes in recent months. The Crime Stoppers Board of Directors has approved $4,200 in rewards since January 2018 that have not been claimed. If you submitted a tip and have not followed up with Crime Stoppers, please do. You may have a cash reward coming. Call the tip line 309-762-9500 with your tip ID number or use the app/website P3 Tips and enter your tip ID number and password to see your messages. Lost your tip ID and/or password? Call the tip line 309-762-9500 during business hours (Mon-Fri 8:30 am – 4:00 pm). We may be able to recover it. Thank you Quad Cities for helping make our community safer.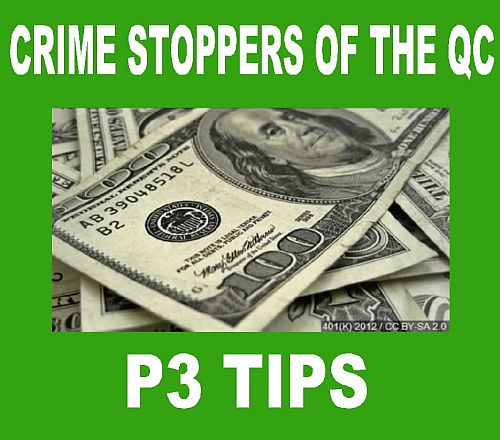 ---
EAST MOLINE POLICE SEEKING WITNESSES/VIDEO IN HOMICIDE 2018-000502
February 08, 2018
On February 6, 2018, at about 11:20AM, WILLIE MINOR (Age 29) is alleged to have shot and killed JON KEENER (Age 52) of Cordova IL while in the street in the 300 block of 15th Avenue, East Moline. East Moline Police are asking for any witnesses and anyone who has residential and cell phone video of the crime to please contact them at 309-752-1547. You can also call Crime Stoppers at 309-762-9500 or Tap the App P3 Tips. Videos, photos and screen shots can be attached in P3 Tips. East Moline Police Lieutenant Darren Gault stresses the importance of eyewitnesses coming forward even if they don't think their information is important.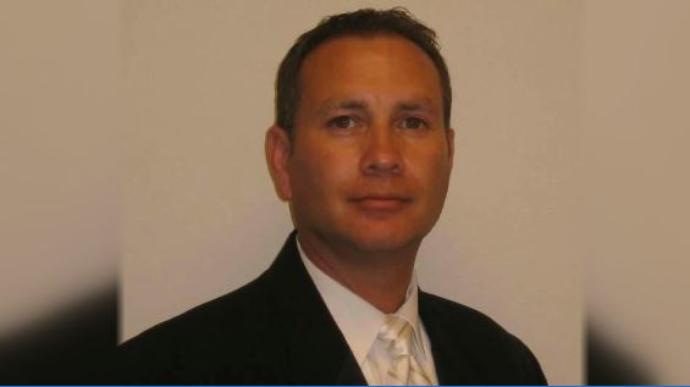 ---
KWQC TV 6 and Crime Stoppers Teaming Up
November 03, 2017
KWQC TV 6 and Crime Stoppers of the Quad Cities are partnering together to make our Quad Cities a safer place. Tune in to KWQC News every Wednesday evening for the Crime Prevention Tip of the Week. And tune in every Thursday live at 4:00 pm for the Crime of the Week and on line at
KWQC.com.
This week, we are seeking information concerning a shooting that occurred November 1 in Moline. If you have info, call the tip line 309-762-9500 or submit your tip on our app P3 Tips.
KWQC TV 6 announces partnership. Watch here.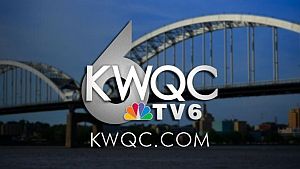 ---
CRIME STOPPERS ANNOUNCES NEW TECHNOLOGY FOR SUBMITTING TIPS
October 24, 2017
CRIME STOPPERS OF THE QUAD CITIES PARTNERS WITH ANDERSON SOFTWARE TO COUNTER CRIME AND BUILD A STRONGER COMMUNITY.
New technology optimizes the tip submission experience and effectiveness.
Crime Stoppers of the Quad Cities is proud to announce that they have recently partnered with the Texas-based company, Anderson Software, to provide a more seamless and efficient way for community members to offer information to help solve and prevent crimes or other serious or life threatening matters. Anderson Software leads the industry with its latest secure and anonymous tip acquisition and management solution, called P3 Intel. This partnership allows the Quad Cities area to foster a relationship between law enforcement and the public to proactively create a safer community.
Tips were previously accepted as SMS text messages using a short code and a dedicated keyword. Crime Stoppers of the Quad Cities will now be accepting tips by phone, the web, and by way of the new, FREE P3 Tips mobile app available on the iOS and Android platforms, greatly enhancing the mobile tip submission process. Still completely anonymous, tips submitted through the P3 mobile app, unlike SMS text tips, have no length limitations and allow images, video, and documents to be uploaded with the tip. Anderson Software's sophisticated encryption processes obscure any and all identifying information and provide assured anonymity for tipsters.
Even without the app, there is still an easy and secure option for submitting tips from any PC or mobile browser by going to qccrimestoppers.com. Of course, tips are still welcomed through calling our hotline 309-762-9500. Using whichever method, once a person submits a tip, they will be given a TIP ID and password. With this information they can login at qccrimestoppers.com and submit follow-up information, engage in real-time chat/two-way dialogue, be informed of the outcome of the tip, and access any pertinent reward information.
Crime Stoppers of the Quad Cities feels that utilizing Anderson Software's P3 Tips program will enhance communications with the public, thereby building a safer and more trusting community in which everyone prospers. To further show our value of tipsters' contribution to the community, tips leading to an arrest will result in a cash reward.
Click here for more info about P3 via KWQC
Click here to download the app
---
CRIME STOPPERS WELCOMES NEW COORDINATOR
August 11, 2017
In June 2017, Moline Police Detective Scott Williams retired from the Moline Police Department and from his post as Police Coordinator of Crime Stoppers of the Quad Cities.
Detective Jon Leach was selected as the new Police Coordinator. Crime Stoppers looks forward to implementing the ideas that Jon has to propel the program forward.
He has hit the ground running and is working with the Board of Directors on the Crime Stoppers golf outing which will be held Monday, September 11, 2017 at Pinnacle Golf Course.
Congratulations on your selection Detective Leach.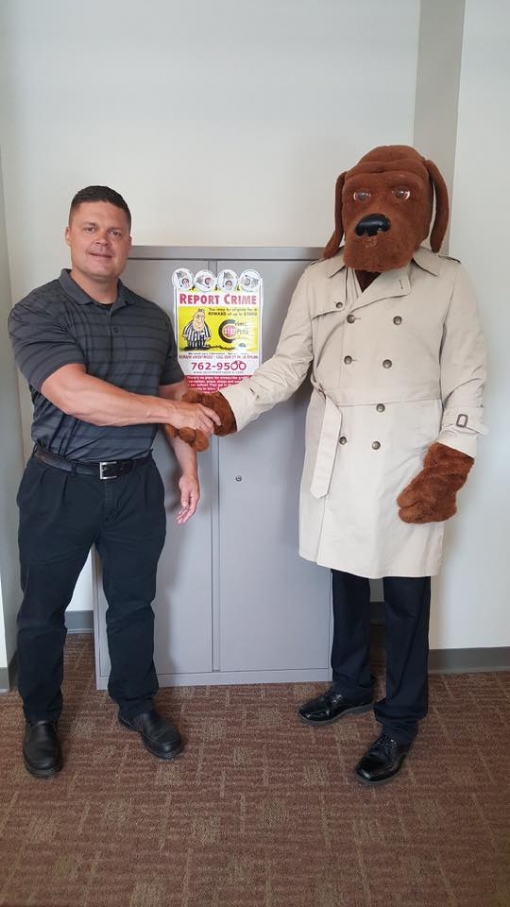 ---